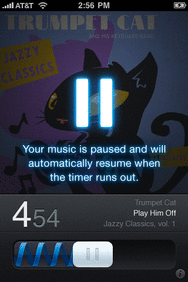 Iconfactory on Wednesday released Take Five, a clever new iPhone app that aims to help you avoid the horror of forgetting to unpause your music.
The experience is familiar to many music fans: you're rocking along to your iPhone or iPod touch on a leisurely stroll when someone—law enforcement personnel, charming old lady, attractive person of the opposite sex, or what have you—requests your attention. You pause the music, intending to take a brief break from, say, Fountains Of Wayne's analysis of the physical attributes of Stacy's Mom. Cut to: half an hour later, when you realize that you never restarted the music after your brief human encounter.
Such disaster will strike no more, if you buy the $1 Take Five app. You tap the app, and your music is instantly paused—but just for five minutes. (You can adjust the default pause time from seconds to 30 minutes.) When the countdown completes, your music fades back in automatically. Of course, if you finish talking to the lawman/elderly person/potential mate and remember to restart your music yourself, that's no problem. You just drag the "time remaining" slider to zero, and your music picks right back up.
Take Five costs $1 and requires iOS 3.0 or later.