Cut the Rope starts off simply enough: feed candy to Om No, the monster. In the beginning, it as easy as the title suggests. However, the puzzles get intricate with the introduction of other interactive objects and a few other challenges along the way.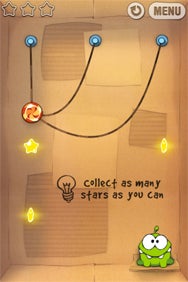 Cut the Rope by Chillingo is a physics based puzzle game consisting of 3 sets of 25 levels plus an unlockable fourth set of levels. Each level has a piece of candy and Om Nom the monster. Using the objects in the level, you have to get the candy in Om Nom's mouth. Early levels begin with simple ropes and bubbles requiring a quick slice with your finger to cut the rope or a tap to pop the bubbles. Later, you'll encounter more objects like ropes that only appear when the candy is near them and hazards like spikes or candy-hungry spiders. To unlock that fourth set of levels, you'll need to collect at least 190 stars—each level as three to collect by touching them with the candy. Feeding Om Nom is usually fairly straightforward, but capturing all the stars on each level can sometimes be a challenge.
The level design is superb with excellent use of physics from basic gravity to floating objects and the the bungee action of ropes. The game makes great use of the touch screen requiring you to even use multiple fingers at times. You'll find yourself motivated to not only complete each level to advance to the next but snag all three stars too. Knowing a solution exists keeps you replaying a level over and over to find it. Both Crystal and Game Center social networking are included so you can share progress with your friends.
Cut the Rope should be another huge hit for Chillingo. The simple premise is executed with clean, beautiful graphics, responsive multi-touch controls, awesome physics, and top-notch level design. Om Nom never ate so well.
Cut the Rope is compatible with iPhone, iPod touch, and iPad with iPhone OS 3.0 or later.
[James Savage is the host of the RetroMacCast a weekly podcast devoted to older Macintosh computers.]