MobileMe and Google offer similar capabilities, but which one is better? Each has its fans and detractors, and while there's no single answer that's right for everyone, you should keep several factors in mind when making your decision.
Price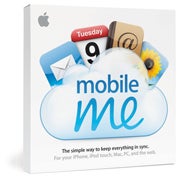 MobileMe subscriptions start at $99 per year (although you can usually find better prices on Amazon.com and other places), whereas Google's services are free. If you're on a tight budget, that single factor may be the only one that matters. However, bear in mind that to some extent, you get what you pay for—for example, support (the next item). And note that Google's services are free only to a point; if you want more storage space or other extra features from Google, you may choose to pay $50 per year per user for Google Apps Premier Edition. In addition, if you use third-party software such as BusySync or Spanning Sync to simplify your interactions with Google, you'll pay for the privilege. So, in some cases, using Google may cost even more than MobileMe.
Support
Google offers no direct or personalized support for its free products, forcing users to rely on Google's Help Center and public help forums to solve problems. On the other hand, Apple offers not only online support for MobileMe, but also the option to speak to an expert on the phone for free.
Ease of use
Apple has gone out of its way to simplify the process of syncing your data with all your OS X and iOS devices—and has integrated MobileMe support into not only OS X but also iLife, iWork, and various other desktop and mobile applications—whereas with Google's services much more manual effort is required.
Features
Both services let you sync e-mail, calendars, contacts, and files. MobileMe adds several unique features, including Find My iPhone (or iPad or iPod touch), which enables you to track and remotely wipe a wayward device; Back to My Mac, which lets two Macs you own share resources even if they're on different networks; bookmark and note syncing; Gallery, a slick way to present photos and videos online; and online storage (iDisk) that can be mounted in the Finder (whereas Google's support for online file storage is less convenient to access). Plus, MobileMe offers the compactness and prestige of an e-mail address in the me.com domain. Meanwhile, Google offers Google Docs, for solo or collaborative online editing of office documents; Google Sites, a service that lets you create Web sites from within a browser; and more-extensive options for filtering e-mail on the server; but has no facility for syncing bookmarks and lets you see, but not modify, synchronized notes.
Compatibility
MobileMe, as an Apple product, is designed for optimal compatibility with other Apple products. Some Google services rely on different standards, and as a result may yield unexpected results with Apple software. For example, Google Contacts offers a single Name field, whereas Address Book gives you separate fields for first, middle, and last names; so syncing may occasionally duplicated entries, with one copy having text in the wrong fields.
Privacy
Numerous people have expressed concerns about Google's privacy policies, and have balked at the idea that the contents of their personal e-mail messages may be searched and indexed in order to display relevant ads on the Gmail Website. Although I think most of these concerns are overblown, it nevertheless pays to consider each company's privacy policies carefully before committing your personal data to one service or the other.
For most people, these factors tend to tip the scales in favor of MobileMe. However, neither choice is wrong, and nothing prevents you from using both services at the same time—or relying on each for the features it does best.
[Senior contributor Joe Kissell is the senior editor of TidBits and the author of the e-book Take Control of MobileMe (TidBITS Publishing, 2010)].