In terms of native speakers, Spanish is the second most spoken language in the world. So it's little wonder that there are so many products in the App Store offering to help you pick up the language. To brush up on my own Spanish skills, I looked at two apps from Mobilinga—Start Spanish and Spanish (ES) Vocabulary. Both apps are solid offerings that offer a bevy of information for Spanish language students. But on their own, there are a few too many frustrations for either app to help you master Spanish.
Language learning apps seem to be divided into two groups: those that educate the user via a course curriculum and those that depend on a flashcard-style approach. Start Spanish and Spanish Vocabulary definitely fall into that latter category; they're almost entirely flashcard-based.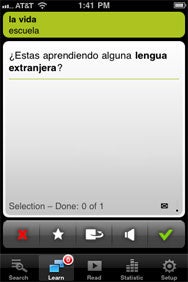 The two apps are identical in appearance and design. Start Spanish includes nine main categories of words including sections on the family, nature and time. Each section includes subcategories; for example: parents and children (family), weather (nature) and times of the day (time). Each category or subcategory contains flashcards which feature both individual words and sample sentences. Users can view cards individually, learn new words and phrases in 20 flashcard "sets," read new sentences, and view statistics on study time.
In Start Spanish, you learn words by using flashcards. Each flashcard contains a word or phrase. If you translate the Spanish phrase in your mind and find that you are correct, you touch a green check button to mark that you got the right answer and are ready to move on to the next card. If you don't know a word or phrase, you touch a red X box, which forces the card to appear again at random in the current group of flashcards.
In testing Start Spanish, I found the app to be very educational if a bit puzzling in its design. While I found the app's content valuable, its layout within the app didn't really make sense to me.
For example, in one section I learned the names of different parts of the body. After learning individual words, I wanted to test my knowledge by reading and learning sentences containing these words. I navigated to the app's "Read" section which contains sentences and their meanings in the currently selected category. Naturally I thought I'd be learning about ways to refer to parts of the body in sentence form, but instead encountered odd sentences that had little to do with the subject matter—sentences like "Yo quiero fresas" ("I want strawberries") and "El dibujo ha perdid su brillo" ("The picture has lost its shine"). I have no idea why these phrases were included in this section.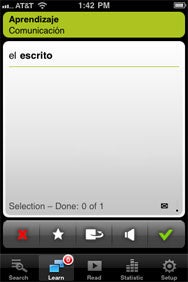 Mobilinga's Spanish Vocabulary is a sort of "older sibling" to the smaller Start Spanish app. By comparison, the vocab app contains 5,000 words and phrases in 14 categories which include communication, means of transportation, and politics and society.
Spanish Vocabulary includes content which is more focused and specific than Start Spanish, too. For example, the app contains 42 words and phrases in a section on railway travel alone. Indeed, Spanish Vocabulary is really about increasing the user's Spanish vocabulary whereas Start Spanish is more about building a foundation in conversational Spanish.
While the content in both apps is good, the execution leaves something to be desired. Both apps offers instructions, but they're difficult to find, as they're buried on a help screen deep within the Settings menu. A welcome screen or easy-to-find walkthrough instructions screen would go a long way toward making navigation much easier.
While I recommend Start Spanish and Spanish Vocabulary to anyone seeking to test their knowledge of Spanish, the apps work better as supplementary materials to a more structured curriculum, either from a textbook or a more organized iPhone app. While the content in both apps is good, the quirkiness and general lack of guidance in the interface prevent me from giving a more enthusiastic recommendation.
[Macworld contributor Brendan Wilhide covers the sports industry and social media on Sportsin140.com.]