If the ability to stream digital media is quickly rising up your home entertainment to-do list, you may want to check out Denon and Marantz America, two makers of high-end consumer and professional audio equipment under the D&M Holdings umbrella. The companies have announced impending firmware updates that will bring Apple's AirPlay technology to some of their current A/V receivers.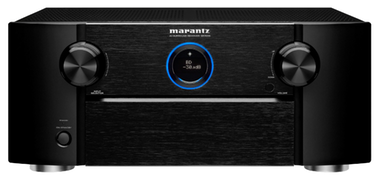 Macworld has covered AirPlay before, but for a quick refresher: introduced in iTunes 10, AirPlay is a revamp of Apple's old AirTunes technology and allows users to stream audio, video, and photos to devices like the Apple TV, AirPort Express, and any third-party hardware that licenses the technology from Apple. Some support is also due to come to iOS devices once iOS 4.2 ships: for example, if you were watching a TV episode on your iPad you can opt to have the iPad send the video to your Apple TV instead.
Denon and Marantz America are joining iHome as the early adopters of AirPlay. A firmware upgrade currently in the works will bring AirPlay to four Denon A/V receivers, including the AVR-4311CI ($1999), AVR-3311CI ($1199), AVR-991 ($999), and the company's new 100th anniversary celebration model, the AVR-A100 ($2499). Also slated for the upgrade is Denon's N7 Networked CD Receiver ($599) with 2.0 Channel Speaker System ($199).
All of Marantz America's IP-based models will get the AirPlay upgrade as well, including the SR7005 A/V Receiver pictured above ($1599), AV7005 A/V Preamplifier ($1499), NA7004 Network Audio Player ($799) and M-CR603 Networked CD Receiver ($699).
In addition to streaming music, AirPlay will allow these devices to pull other metadata from iTunes including artist information, album art, and elapsed and remaining time. Macworld contacted Denon and Marantz America to see whether their products will support AirPlay streaming from iOS devices, or suport video in addition to audio, but as of press time, the companies had not yet responded.
The firmware upgrade is expected to be available by November 25; users will be able to purchase it from the companies' sites for $49.