When last we saw our hero Frank Solway, he was struggling to stay atop of things—and gosh darn it, some things never change. The release of The Incident 1.2 brings a brand new game mode, Game Center integration, and—for those who own both an iPhone and an iPad—a very cool wireless controller feature.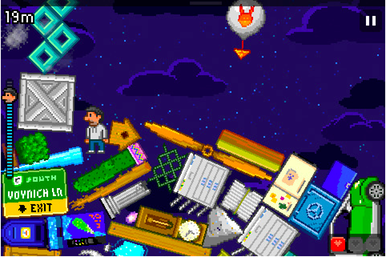 The new Endless Nightfall game mode lets you take control of a hoodie-clad Frank, who is forced to hop, leap, and dodge a never-ending pile of objects falling from the sky. Unlike the standard game mode, there's no end to this level: the goal is to see how high you can get before you inevitably bite the dust. And once you've hit a new personal record, you can show off to your friends using The Incident's new Game Center integration, comparing high scores with friends and displaying your list of earned achievements.
But if you happen to own an iPad as well as an iPhone or iPod touch, you can take advantage of The Incident's best new feature: the ability to use your iPhone or iPod as a wireless controller for the gameon the iPad.
Simply go into the Options screen on the iPad and tap Find a Controller; then tap Use as Controller on the iPhone. Launch the game on the iPad and away you go, tilting and tapping on the iPhone as Frank careens across the iPad screen. In controller mode, the iPhone will even show you a preview of what object will fall next—but frankly, if you're fast enough to split your attention between the two, you're a better person than I.
There are a few other new features, including a new power-up balloon, more objects, Retina display support, some new music, and a bunch of bug fixes.
The Incident 1.2 is $2 and is available now in the App Store for any iPhone, iPod touch, or iPad running iOS 3.0 or later.