One of the best new features on the iPhone 4 is its 5-megapixel camera. With a 1/3.2-inch backside-illuminated CMOS sensor, the iPhone 4's camera is the equivalent of an entry-level point-and-shoot. But the iPhone has an advantage over other compact cameras— it's always with you and ready to capture any unexpected moments.
We want to see what kind of amazing pictures Macworld readers have captured with the iPhone 4, so we're having a photo contest. Pick a favorite shot from your Camera Roll, or go out and capture a fresh picture to submit. What we're looking for are images that show your skills as a photographer, but that also demonstrate the iPhone camera's strengths.
Judging: Photographs will be judged by our editors based on quality, composition, personality, and how well they capture a moment. Editing is allowed, but keep in mind that a retro filter doesn't automatically mean a better image. Take advantage of the Camera app's built-in tools, like the new HDR feature and tap-to-focus. If you're looking for inspiration, check out these great reader images from last year.
Prizes: One first place winner will receive a Vibe Plus, iEP515 Earphones, and an iPhone 4 case from iLuv. Additional iLuv prizes will go to the 3 second place winners, and 5 third place winners.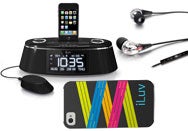 How to Enter: Send your image to contests@macworld.com with the subject line "iPhone 4 Photo Contest." In the body of the e-mail, include your full name and location and tell us a little about how you took the photo, what settings you used (flash, HDR), and any story behind the image. We will be checking metadata, so make sure you send the original iPhone image file. Only one image per person will be seen by the judges, so if you enter muliple images we'll pick the one we think is the strongest.
Deadline: The deadline for entries is October 29th, so start snapping! Winning images and honorable mentions will be featured on Macworld.com November 9th in a slideshow. You retain all rights to your submitted images, we will only ever use them in the contest slideshow.
Check out the iPhone 4 Photo Contest page for more information and complete contest rules for details.
Updated: This contest has ended, but you can see a gallery of the winning iPhone 4 photos here.
32GB iPhone 4 (GSM, AT&T)
Price When Reviewed:
$599
16GB iPhone 4 (GSM, AT&T)
Price When Reviewed:
$485