TED Conferences, a well-respected nonprofit devoted to sharing "ideas worth spreading", has released a free, self-titled iPad app that brings its acclaimed TEDTalks straight to your device.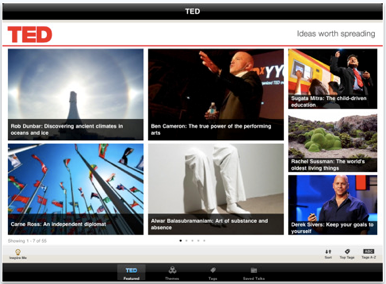 TED's TEDTalks video series features talks from some of the world's brightest minds, ranging from education radicals, tech geniuses, medical mavericks, business gurus, and music legends. With the TED app, you can find and view over 700 TEDTalk videos, with more added each week.
TEDTalks are delivered through the app in high- or low-resolution formats depending on your network connectivity. You can create playlists and save videos for offline viewing.
You can also sort views by how recent or popular they are, and search by tags, themes, or related talks. There's even a function that will guide you to a special playlist based on how much time you have to view it, and whether you'd like a serious or funny topic.
TED runs on iOS 3.2 or later. An iPhone app is already available.