Once again, the world needs saving. In Gameloft's Modern Combat 2: Black Pegasus for the iPhone, you play as three different US soldiers immersed in a global war on terror. The sequel to 2009's Modern Combat: Sandstorm, this mobile first person shooter title offers more diverse settings, missions, and better graphics than its predecessor.
With a focus on modern theaters of war and realistic weapons, one can see obvious comparisons between console titles Call of Duty 4: Modern Warfare and its sequel Modern Warfare 2. But don't mistake Gameloft's Modern Combat series for cheap knockoffs or parodies; as Black Pegasus proves, Gameloft knows how to give first-person shooters justice on the mobile platform. Black Pegasus delivers impressive combat controls, well-detailed environments, and exciting single player and multiplayer levels. With Black Pegasus, Gameloft once again pushes the genre forward on the mobile platform.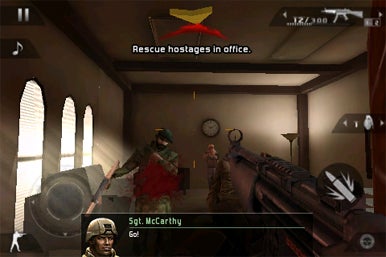 The sequel to Modern Combat: Sandstorm, Black Pegasus rotates you between the perspectives of three U.S Military soldiers as they battle enemies in South American, Middle Eastern and Eastern European theaters of war. You can use fifteen different weapon (including RPGs, AK47s and turret guns) to rescue hostages from embassies, secure oilrigs from invaders, and shoot terrorists from tanks. There are twelve missions in all, and each provides you with a formable challenge and a well-detailed environment.
The game's controls are customizable, but essentially you use a virtual D-pad to move, use one of your thumbs to aim your weapon, and use a virtual button to shoot. There is also a control that lets you kneel. At various stages in the game, you will gain access to context-sensitive buttons that will allow you to kick down doors, avoid flying debris, and block aggressive enemy moves. Controls are intuitive, but as they require your thumbs to maintain long contact with your iPhone's surface, the surface tends to grease up after prolonged use.
You can play game levels in "Easy," "Normal," "Hard" or "Extreme" modes. As you progress up through the difficulty settings, enemies become harder to kill and ammo becomes harder to find. In Hard mode, I often found myself running out of bullets, a problem I didn't face in Easy mode.
Black Pegasus provides you with a variety of multiplayer options. The game lets you play against up to ten people online or within Bluetooth or Wi-Fi range. You can play multiplayer in five game environments, and you have four different gameplay options to try. You can battle your friends individually in "Battle" mode, team up with them to kill common enemies in "Team Battle," or fight against or with them to "Capture the Flag" or "Defuse the Bomb." I found creating and joining multiplayer games to be a synch, and the game's multiplayer action seems to be on par with the action of the some best games of the first-person shooter genre.
Overall, you'll find only a couple of drawbacks with Modern Combat: Black Pegasus. The enemy AI isn't too advanced and most enemies don't move more than a few feet in levels. It does take some effort to kill combatants, but there's a dearth of actual strategy in the game—the missions are usually linear and the enemies are easy to pick off.
As easy-to-use as the controls are, I would like to see the game make better use of the iPhone's touch interface. Gameloft's current control set up allows you perform most actions by pressing buttons specifically designed for the situation. For instance, if you need to pick up a weapon, a button for that purpose will appear on your screen. If you need to open a door, there's a button for that. Instead of pressing buttons, it would be cool if you could swipe your finger against a weapon to pick it up, or open a door by turning its knob with your finger, but right now those options are just dreams.
Modern Combat: Black Pegasus is one of the best first-person shooters out for the iPhone. It has solid gameplay mechanics, well-rendered environments, excellent multiplayer functions, and fun single-player levels to complete.
[Sam Felsing is an editorial intern for Macworld.]