This week's roundup of iPhone 4 cases has something for everyone. The bargain hunter will be pleased with BBP Bags's super-affordable offering, while those with deeper pockets and a hankering for handmade luxury might take interest in the swank, minimalist MonCarbone case. For the hipsters, we have the oh-so-ironic USBfever Retro Casette Tape, and DomeSkin's wide array of eye-catching artsy cases likely includes something for everyone else. Read on to see if any of this week's releases might suit your fancy.
BBP Bags
BBP Bags is offering a recession-proof deal with its Protect-it case for iPhone 4. For $6, you get a slick, form-fitting plastic case that offers front and side impact protection. The case is available in three colors, and protective film for the iPhone's screen is available for an additional $5.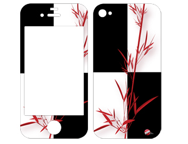 DomeSkin
DomeSkin has a new collection of eye-catching 3D Skins ($20) that offer your iPhone 4 protection from scratches while maintaining its sleek aesthetic. The skins provide an improved grip on your phone, are reusable thanks to a special built-in resin, and are available in a wide variety of stylish graphic designs.
MonCarbone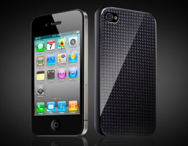 On the fancier side of things is the $60 MonCarbone with its new HoverCoat Series iPhone 4 case. Hand crafted out of carbon fiber, the HoverCoat boasts an understated design that compliments the iPhone 4's aesthetic without adding much thickness. The HoverCoat is also extremely light—MonCarbone boasts that the case increases the iPhone's weight by a mere 5.8 percent. The case offers complete access to all of the iPhone 4's controls, and is UV resistant to prevent discoloration due to sunlight.
Moshi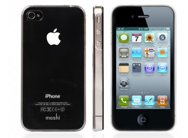 Moshi's $25 iGlaze 4 XT is a snap-on hardshell case designed with the minimalist in mind. The ultra-thin case maintains a crystal-clear appearance while its hardened surface provides enhanced scratch protection. The camera hole is designed to be "flash-friendly" and shouldn't cause unwanted flare in photos.
Trident Case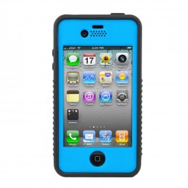 Trident Case's new $25 Cyclops case is constructed with impact-resistant polycarbonate wrapped with a shock-absorbing silicone ring. The case also features an anti-scratch, anti-glare, anti-moisture PET screen protector that should keep your phone's face free from scratches while maintaining full touch functionality. Though named after a mythological beast, the Cyclops actually sports a soft, velvety coating—who knew such a frightening creature would be so pleasant to touch?
USBfever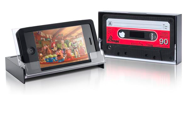 Retro is still all the rage these days, and while most of us haven't used a cassette tape since the 90's, there's still an undeniable—and very profitable—charm to these nostalgic relics. USBfever's $40 Retro Cassette Tape Case for iPhone 4G will have people wondering why you've stuck a pair of earbuds into an old, blank cassette tape. The silicone case keeps your iPhone fully protected, and when opened, can be used as a stand for movie viewing and FaceTime chats.