There was a time when touch screen interfaces existed only in the realm of science fiction. Now that the iPhone is common fare, what comes next? Mind-reading interfaces, of course—and according to PLX Devices, the age of brain-wave controlled technology may be closer than we think.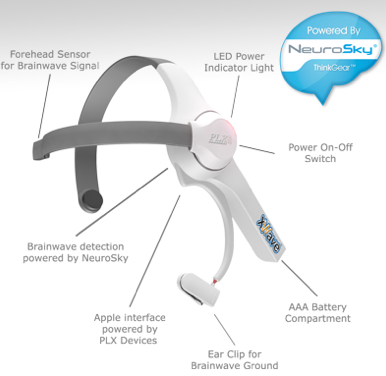 PLX Devices's XWave Headset, according to the company, lets you control certain iPhone apps with your brain. It does this through use of "eSense patented technologies" that sense the electrical impulses transmitted through your brain, converting them into digital signals. These signals can be used to control objects in a game, and further down the line, might be used to control the lighting of your living room, or the volume of your sound system.
The $100 device, which resembles a gaming headset more than it does a futuristic brain reader, is powered by a single AAA battery and plugs into your iPhone's audio jack. Sensors on the headset rest against your temples and forehead, while an ear clip acts as a "brainwave ground".
From the we can tell, the XWave's ability to interpret brainwaves—if does so at all—is abstract at best. The apps that will be available when the XWave ships in November revolve mostly around measuring your ability to "focus" and depicting your level of focus via a levitating on-screen ball, or abstract, iTunes visualizer-type graphics. PLX Devices is also releasing an SDK for the device, so we can expect future concentration and meditation-based apps to spring out of the woodwork.
The XWave is available for pre-order now, but before you get too excited, check out this video of the XWave in action below, and see why we shouldn't be expecting to play mind-control Plants vs. Zombies any time soon.