I never remember how to pronounce "Zagat," but I do recognize what the brand means: trusted, copiously-detailed reviews and ratings for restaurants all over the world. The Zagat To Go universal app from Handmark combines data from more than 45 Zagat guides—for just $10.
My initial experience with the Zagat app was rather unpleasant. I started with the iPad version, which almost instantly seemed to choke. It turned out my home internet connection had failed, but the app didn't provide any indication that there was a connectivity issue. In fairness, when I restored my connection, the app worked instantly.
I switched to the iPhone version of the Zagat app, which launched with this confidence-boosting alert: "Error." The sole button to tap read "Dismiss." I did, and nothing happened.
Fortunately, a recent update resolved all my issues, so I took another, less aggravating look at Zagat To Go. This time, I came away more impressed.
With your permission, Zagat uses your iOS device's current location, and then calls up reviews for restaurants, hotels, nightlife, and shopping near you. Like Yelp, Zagat's reviews are based on the opinions of customers—more than 375,000 of them. But unlike Yelp, Zagat curates its crowd-sourced reviews. The final products—terse, detail-packed paragraphs covering the plusses and minuses of the venue in question—cite multiple, anonymous reviewers throughout. Restaurants, the most popularly-reviewed Zagat destination type, are scored on a 30-point scale for Food, Decor, Service, and Cost.
Zagat on the iPhone ends up being a bit easier to navigate than the iPad version. You tap into one of the categories, like Restaurants, and then and are almost immediately presented with a options to browse by proximity, neighborhood, cuisine, or more. A filter at the top of the screen lets you adjust the mile radius that the app searches. When you make your selection, a list of matching restaurants and their scores appears. Tap any entry on that list, and you get a screenful of details: the restaurant's address and phone number, the review and ratings, and a host of other information like dress code, child-friendliness, hours of operation, and more.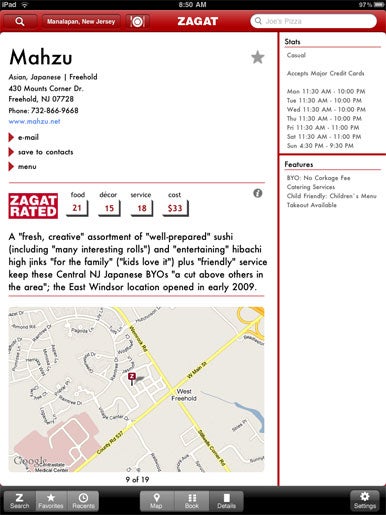 On the iPad, though, there's more tapping, and some key elements are less obvious. I couldn't find any apparent way to change my searching radius, for instance; I eventually figured out how to do so accidentally: you zoom in or out on the full-screen map view. The iPad version of the app is certainly usable, but the iPhone counterpart seems to handle things more elegantly.
The bigger the city you live in, the more likely that the Zagat app can be useful. For my suburban New Jersey hometown, Zagat provides ratings for just 19 restaurants, and absolutely no ratings for hotels, nightlife, or shopping destinations. It's definitely worth searching Zagat's Website first to see how many destinations near you the guide covers before spending your cash on the app.
If you do live in an area well-covered by Zagat, the app's a well-presented and affordable way to browse reviews and find the best spots to spend your money.
[ Lex Friedman is a frequent contributor to Macworld.]