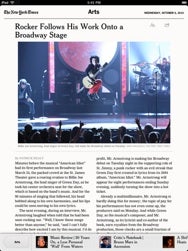 New York Times Editor's Edition for iPad is dead—long live NYTimes for iPad!
The news organization has pulled the curated, slimmed down "Editor's Choice" edition of its app and released NYTimes for iPad. This version 2.0 release features over 25 sections from The New York Times like Arts, Technology, Politics, and Science, as well as new Photos and Videos sections.
A "selection" of the latest Times blogs is also available. Like the previous app, The New York Times continues its affinity for limited social interaction by giving you only Facebook, Twitter, and e-mail sharing options.
A new Breaking News ticker is enabled by default, displaying a scrolling list of the latest news at the bottom of the screen when you're reading a full article.
Like the Financial Times and Wall Street Journal apps before it, NYTimes for iPad will soon hop on the paywall bandwagon. Currently, all content is free to users, and even though you can sign up for a New York Times account in-app, it does not appear to require such registration yet to view any content. All NYTimes for iPad content will remain free until early 2011, at which point The New York Times plans to erect a paywall for some content.
NYTimes for iPad 2.0 is available now for free in the App Store. It requires an iPad running iOS 3.2 or later.