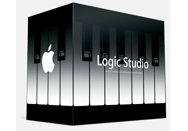 Apple has posted identical updates for its Logic Pro and Logic Express digital audio workstation software.
The 9.1.2 update delivers the usual "general stability and compatibility" improvements, as well as improved compatibility with 6 and 12-core Mac Pro systems and support for iOS control surface apps that utilize the OSC protocol.
Fans of Propellerhead's ReCycle application will be pleased to learn that both versions of Logic now support REX files in 64-bit mode. The update also offers improved compatibility with select Audio Unit (AU) plug-ins.
The 9.1.2 update is recommended for all users of Logic Pro 9 and Logic Express 9. You can view full release notes for the Logic Express and Logic Pro updates at Apple's Website.