Editor's Note: The following article is reprinted from Macworld UK. Visit Macworld UK's blog page for the latest Mac news from across the Atlantic.
British designer Stuart Hughes is offering a £5 million (US$8 million) Apple iPhone 4 for sale adorned with 500 individual flawless cut diamonds totaling 100 carats. The iconic Apple logo meanwhile, now comes with a blinging 53 diamonds.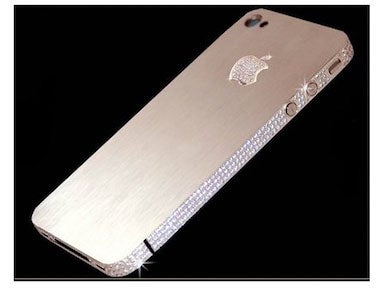 Hughes pimped the Apple handset for an Australian businessman, who clearly has more money than sense.
"It was a fantastic challenge and I am really pleased with the end result—the phones look superb," the Liverpool designer said.
"Phones are so popular at the moment and this is the ultimate design for one. It was a very exciting project. The diamonds are rare and difficult to source, stones like that usually have a very long history.
"It is amazing that someone is prepared to spend £5 million on a phone, I doubt it will get used because it is worth so much money. It would be a disaster if it was ever lost."
The £5 million iPhone comes well protected, presented in a 7-kilogram block of Granite in imperial pink complete with Nubuck top grain leather finishing. Only two of the handsets will ever be made.