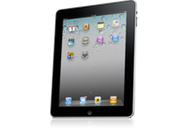 Hot on the heels of Thursday's news that Verizon and AT&T stores will begin selling the iPad, AT&T on Friday announced that it will also sell the iPad directly to business customers.
Part of "an initiative to help companies increase productivity and flexibility," AT&T will offer all three Wi-Fi + 3G iPad models to businesses starting on the same date that retail stores get them, Thursday, October 28.
The iPads will be available through AT&T business account representatives. Customers whose employers pay for their AT&T bills are eligible, as are customers with corporate subscription accounts.
The iPad is seeing high adoption rates from businesses and the enterprise, which are warming up to Apple's tablet much more quickly than they did to the iPhone. In a July earnings call, AT&T reported a "surprising" number of business customers approaching it about the iPad in the four months since its launch. At an Apple earnings call earlier that same month, Apple COO Tim Cook said that 60 percent of Fortune 500 companies were already deploying or testing the device. Macworld also took a look at how the iPad is being used for everything from sales to furniture delivery, as well as in law and medicine.
AT&T will offer the same data plans with the iPads it sells that other customers get: 250MB per month for $15, or 2GB per month for $25.
Apple iPad Tablet Computer
Apple iPad Tablet Computer