When Election Day arrives in a few weeks, the free CNN Elections Center app will probably a valuable resource to political junkies wanting to track race results in real time. Until that day arrives, however, the app is a shell mostly waiting to be filled.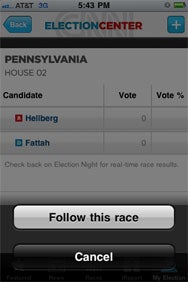 The offering from CNN Interactive Group does offer fresh news headlines and videos about the upcoming midterm elections; chunks of the network's coverage of this week's debate between Delaware senatorial candidates Chris Coons and Christine O'Donnell were quickly available for viewing. The app also offers a daily poll, and tries to create interactivity with a quiz to help users figure out their political philosophy.
CNN Elections Center also provides a list of all the contested Senate, House and gubernatorial races across the country—but the app offers no news about those races, and in many races doesn't even bother to present an overview the way that Fox's America's Election HQ app does.
The app, though, is clearly built for Nov. 2. Users can turn to CNN Elections Center to find their polling place, and during the day they'll be able to use it to submit stories, photos, and video about voting to CNN's iReport program for possible airing on TV and at CNN.com. After polls close, users can select which races to follow; the app will provide push notifications of developments in vote-counting.
Until then, however, there's not much the app offers that isn't already available on the CNN App for iPhone or the network's free mobile site. CNN Elections Center will be useful, but there's no rush.
[Joel Mathis is a freelance journalist and political columnist for Scripps Howard News Service. He lives in Philadelphia.]