Tweed is more than just the material your grandfather used to wear to work in the '50s or the fabric that's the international sign for "college professor." In fact, if Australian company Foof has its way, tweed will be the only thing between your MacBook and the harsh elements of the outside world. The company has added two new styles of Irish tweed to its Foofbag and Foofpod lines of MacBook, iPad, and iPhone protective sleeves.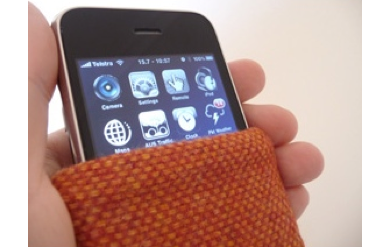 The Foofbag is a simple sleeve with an opening at one end for easy removal of your MacBook, MacBook Pro or iPad that spares you the hassle of dealing with zippers, velcro, snap-on latches or straps.
The Foofpod is a smaller version of the Foofbag, designed for the iPhone and iPod Touch. The Foofbag and Foofpod are both made with 100% Irish wool woven in Ireland, and sport an inner lining made of soft, "sherpa fleece" fabric that will keep your device scratch-free.
The new styles available are the BlueBone, which is made from classic Irish herringbone tweed and sports a blue and purple color scheme, and the Oraiste (pictured), an orange-gold fleck colored sleeve made of classic Irish hocksack tweed.
Foofbag MacBook Sleeves are available for the 13" MacBook and MacBook pro, as well as the 15" and 17" models and sell for $38. The iPad Sleeves are $28 and the iPhone and iPod Touch Foofpod sleeves go for $18.