For many of us, buying a printer no longer means investing large amounts of money—these days, the price of most consumer printers is measured in tens of dollars, rather than hundreds. Nor is quality really as big of a differentiator as it used to be: while pricier models usually do deliver better results, even today's inexpensive printers perform much better than their ancestors of five or ten years ago.
All this, coupled with the Mac's renewed popularity, makes choosing a printer a much easier job than it used to be. Nonetheless, Mac users in the market for a printer still have to contend with the reality that not all printers support OS X equally, and it's not all that unusual to come home from a trip to the electronics store with a device that is not quite as "compatible with OS X" as the box says.
A little homework ahead of time will go a long way toward making your printing experience pleasant and productive. Here are five tips to help you make sure that the printer you buy will work as advertised.
1. Understand what support means
If you set out to buy a new printer of recent production, the chances that it will work with your Mac straight out of the box are fairly high—after all, no manufacturer in their right mind would feel justified in ignoring Apple customers these days. If, on the other hand, the device of your dreams has collected a bit of dust on the retailing shelves, or if you're buying a second-hand printer, things can get a bit murkier.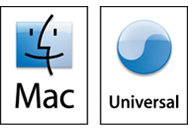 A printer that is meant to work with OS X will sport one of two Mac logos: either the traditional Finder icon with the word "Mac" or the newer Mac Universal emblem, which indicates that the software provided with the printer supports both the old PowerPC-based Macs and their newer Intel-based counterparts. It is important to understand that it is the individual manufacturer, and not Apple, that certifies that the printer is Mac-compatible. Therefore, the logo by itself doesn?t necessarily mean printer happiness when you finally get home and connect the cable to your Mac.
2. Match your OS X version
Older Macs are based on a different technology architecture (PowerPC) than recent models. Therefore, the kind of computer you own has a significant impact on whether or not a printer will support it. Are PowerPCs are too old to be concerned about? Well maybe you won't be buying one off the shelf, but many families recycle older computers to the kids, and even to non-technical siblings and parents. So there's still plenty of PowerPC Macs out there that people need to print from.
Universal drivers will work on either type of Mac—therefore, they tend to be the safest bet in terms of compatibility. For printers that do not sport the Universal logo, you need to dig a bit deeper and find out whether the manufacturer has included drivers for the architecture that matches your Mac.
In addition, it's a good idea to make sure that the number of the OS X version supported by the printer matches the version you have as closely as possible. This will, typically, be printed either on the box the printer comes in, or in the Requirements section of the manual. In many cases, you can also obtain a manual in PDF format, free of charge, on the manufacturer's Website, or through specialized Websites like Retrevo. If you don't know which version of OS X you're running, you can find out by selecting About from the Apple menu.
You should be wary, in particular, of minimum version requirements that are higher than the edition of OS X you now run: if the printer software was written for (say) OS X 10.6 and you're running 10.3, there's a good chance that you will have problems, as the drivers are likely to rely on technologies that simply do not exist in your operating system. The opposite scenario is not as fraught with peril, given that Apple is usually very careful about maintaining backward compatibility in its software as much as possible.
3. Consult the mothership
If you are unable to determine whether the printer matches your version of OS X, you'll be happy to hear that Apple maintains a complete set of Web pages that list all the printers for which the company provides built-in drivers. If your printer appears in one of these lists, installing it could literally mean just plugging it in and adding it to your printer list.
If your model is not listed, there are two possibilities. The first is simply that you have happened upon a printer whose drivers are supported by the manufacturer but not bundled with OS X; in this case, Apple, once again, has a handy Web page that contains links to external Websites where each third-party company posts its own list of compatible printers and driver downloads.
4. Consult the manufacturer
Speaking of manufacturers, just about every single one of them has a support Website these days. So unless your printer is, relatively speaking, an antique, you should be able to go on to the vendor's Website and find out whether they have drivers for your version of OS X.
This is particularly important for multi-function models that combine a printer, scanner, and fax machine in the same device. The manufacturer's Website will, typically, indicate which functions are supported by the peripheral's OS X drivers and under whcih conditions (for example, whether they can be used for local printing only, or whether network printing is also an option).
5. Consult the Internet
When all else fails, it's time to roll up your sleeves and start looking for information online. Here, a Google search often yields useful results, particularly if you choose your keywords carefully. Make sure to write down and use the actual manufacturer's model number for the specific printer you're considering, as multiple devices often share the same name even if they are not compatible with each other.
The Internet's best resource, however, are the people who inhabit it. Macworld, for example, hosts the helpful Mac OS X Hints, which is rich with tips and tricks and troubleshooting advice to help you get the most out of Apple's operating system—including, of course, figuring out how to make printers work. For a more interactive experience, you can also try out the Macworld forum dedicated to Mac hardware where you will find plenty of Mac fans and experts ready to help you find the answers to your questions.