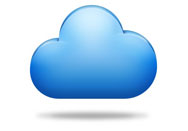 CloudApp is a Web service, menubar utility, and iPhone app that makes it simple and fast to share links, screenshots, and other files. The service has been free to use since its introduction, but Friday the company introduced a pro subscription version with some key perks for heavy users.
CloudApp Pro highlights include a lack of restrictions and higher file size caps. For comparison, free accounts are limited to uploading 10 files a day at a maximum per-file size of 25MB, as well as a three-month expiration date for shared files and ads on shared file pages. But pro account users can upload unlimited files a day with a max per-file size of 250MB, keep files online indefinitely, and enjoy no ads on shared file pages. Besides the per-file size limits, both plans offer unlimited bandwidth and disk storage.
Pro CloudApp users can also use a custom domain name shortening links; useful for making a branding effort for your Website or a project. Soon, CloudApp Pro will allow custom domain users to specify a base URL redirect. This means that if you share a link or file with a custom short domain like macwor.ld/1y72k, and a user visits the main macwor.ld domain, you could specify that they end up at any other site of your choice— macworld.com, for example.
CloudApp Pro is the latest volley from the service against Droplr, its closest competition. Droplr arrived on the scene first and offers many similar features to CloudApp, including a stylish iPhone app with strong integration with other iOS Twitter apps. It also offers a custom domain feature for free, including the custom URL redirect option.
CloudApp Pro is available now as a subscription for €4 (about $5.50) per month. Users simply need to sign in and click the new Subscription tab under their account settings to subscribe.