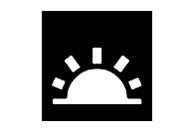 For this series on camera modes, we picked six common shooting scenarios, some of which require tricky manual adjustments to capture the ideal shot, and took pictures in each scenario: one using the Auto setting, one using the appropriate scene mode, and one on which we manually adjusted the settings. Here's a look at the power of the Sunset mode:
If you're lucky enough to get a clear shot of a breathtaking sunset, the last thing you want is a boring photo. The Sunset scene mode is a Landscape scene mode (it sets the focus to infinity and uses a smaller aperture to create a wide-angle view that's completely in focus), with one key difference: It boosts the warm red tones, making the vivid colors of a sunset practically jump out of the photo. That kind of color enhancement is sort of cheating, but the results can be even more stunning than the sunset itself.
Auto mode properly identified our test scene as a landscape, and because it didn't tweak the colors, it snapped the most true-to-life representation of the sunset. If you want accurate colors and more detail in your sunset shots, use Auto mode.
The test shot we took with Sunset mode made the sky's colors appear deeper, with a somewhat artificial-looking red tint. If it's drama you're seeking in your end-of-the-day photos, you should definitely use Sunset mode for the occasion.
In manual mode, we tried to outdo Sunset mode's dramatic flair by using color filters; we also closed the aperture to f/8.0 to create a deep depth of field, and used medium to fast shutter speeds. We boosted the blues, reds, greens, and contrast, and came up with an even-more-surreal result. Depending on our choices, the image looked dramatically different: Sometimes everything had a warm yellow tint, other times we enhanced the light blue in the sky, and still other times everything was pinkish-red.
Colleagues who viewed all of the photos tended to prefer the shots we took in Sunset mode. The colors seemed fake in both our Sunset and manual shots, but they looked more realistically fake in Sunset mode (if that makes any sense). We give the victory to Sunset mode here—but depending on the sunset you're shooting, we suggest taking extra photos using any color-accent modes your camera may have. That way, you can see how the scene looks with different filters.