Flatbed scanning is a lot easier than it used to be. The combination of all-in-one hardware devices with wireless capabilities, and under-the-hood improvements in Mac OS X have simplified the scanning process. Here's how you can use OS X's Preview application to set up an easy wireless scanning workflow for your photos or documents.
To test compatibility across brands, I added three different all-in-one devices to my Airport network and scanned a test document using Preview. In general, the process remained the same regardless of the hardware device. Some minor differences in the dialog boxes can be attributed to their unique drivers. But for the most part, the following workflow should apply to most Mac-friendly scanners/printers with wireless capability.
The devices I used were the Kodak ESP7 All-In-One Printer, HP's Photosmart C6380 All-In-One, and Lexmark's Interact S605 All-In-One. Each of these printers has built-in wireless networking, include Mac OS X drivers, and can print as well as scan.
None of the devices were wired to my Mac—I accessed them all though the Wi-Fi network. As an added bonus, once a device is set up, you can then access it from any computer that has access to the network via Preview or Image Capture.
Setup your tools
Getting set up is basically the same process for all three scanners: Load up the ink cartridges, turn on the power, load the included drivers on to the Mac, and log on to your WiFi network directly from each device (make sure you're on the same network as the Mac you're connecting to). Once you finish those tasks, open System Preferences, click on the Print & Fax icon, then add each printer using the plus sign (+) button in the lower left corner. When the device has been added to the system, it will appear in the "Printers" window on the left side of the dialog. You're now ready to scan.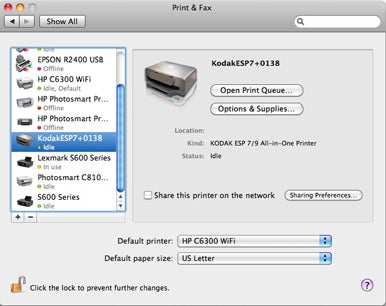 Access the scanner
Some devices, such as the Lexmark Interact S605 will let you initiate a scan directly from its System Preferences dialog box. Click on the Scan tab and it opens the Import From Scanner dialog box in a second window. You can configure the scan settings, such as resolution and size, by clicking on the Show Details button.
However, I prefer to scan with the Mac application Preview because I have adjustment tools right there after the scan finishes. To use Preview to open the same Import From Scanner dialog box, first you have to tell it to look for the scanners on your network. Go to File -> Import from Scanner -> Include Networked Devices. At first you might think that nothing happened, but if you go back to "Import from Scanner" menu, you should now see your networked device in the list.
You can also initiate your scan through Image Capture. You'll be working in the same dialog box regardless of where you initiated the scan: Preview, System Preferences, or Image Capture.
Scan the Document
Now it's time to start scanning. Place your document face down on the scanner's glass surface, then select the device from the list. If you don't get an image right away, click on the Show Details button. This provides you with more scanning options and initiates an overview image for you to look at. The settings in the dialog box are fairly straightforward:
Kind: Choose color, text, or black and white. (Text doesn't give you any options for numbers of grays. Black and White gives you the option for 256 Grays or Thousands of Grays.) Depending on your selection, you'll get to refine your choice with the option below Kind. For example, if you chose "Color" then you get to select Millions or Billions of colors.
Resolution: Depending on the scanner, the list of resolution options could range from as low as 75 dpi to as high as 19,200 dpi. For most scans, 300 dpi should work fine. That lets you make a high quality, full sized print from your scan.
Detect Separate Items: This is a very helpful feature when you have multiple images on a single sheet of paper. By checking this box, the scanning software will identify each item and scan it separately. You can adjust the scanning area selections by moving the "dot" handles. This feature is a real time saver!
Next, you have to tell the scanner where to save the scans and in which format. For photos, you can choose JPEG, Tiff, or one of the other formats. For documents you'll probably want to go with PDF.
Finally, you have some image correction control. If you choose "Manual" from the pop-up menu, you're greeted with brightness, tint, temperature, and saturation sliders. These options can vary from scanner to scanner, however. For example, the HP C6300 also provides a Descreen option (for newspaper and magazine scans), Color Restoration (for old photographs), Adaptive Lighting, and Sharpening. Again, using these options can save you post-production time in an image editor later, or even eliminate it all together.
View and touch-up
Once you click on the Scan button, your Mac will go to work scanning the complete document, photo, or separate items. It will then open the scan in a Preview window where you can view, crop, and even make edits if necessary. If you have a blemish on the scan, chances are it's just a particle on the glass surface. It's probably easier to clean the glass and rescan rather than opening the scan in another image editor, such as Photoshop, for a touch up.
Go forth and scan
Once you realize how easy wireless scanning can be, you'll probably take advantage of this feature more often. You can restore old photographs, preserve newspaper clippings, and digitize paper documents. And of course, not having to have your Mac connected to the scanner via a wire gives you much greater flexibility. You can have your computer on your lap in the living room while the scanner works away in the home office.
[Senior Contributor Derrick Story teaches iPhoto on Lynda.com and runs a virtual camera club at thedigitalstory.com.]