I'm typically a huge fan of the apps that ship from the folks over at Tapbots—I use Convertbot and Pastebot on a regular basis. But Calcbot, a calculator app for the both the iPhone and iPad created by Tapbots in collaboration with TapTapTap, doesn't reach the interface or usability bar set by their other apps.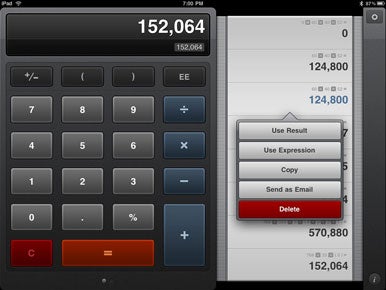 Calcbot is a basic calculator app that offers the typical calculator fare with a few twists. On the iPhone or iPod touch, the calculator's main screen has the look and feel of the kind of calculator your local real estate agent gives away for free. If you have the sound turned up, tapping out an equation delivers a satisfying typewriter-like click, and before you hit the equals button, you'll see the entirety of your equation as you enter each operator and operand. The app also lets you delete the last number you entered in an equation by hitting a delete button or clear the whole screen by holding the same button.
Perhaps I've been spoiled by the iPhone's built-in calculator or apps like the excellent PCalc, but I was a little surprised to find that rotating my phone to landscape didn't reveal more calculator keys. Instead I ended up with a sideways calculator. That's because in order to reveal Calcbot's other calculator functions you have to swipe the number pad to the left. Here you'll find exponents, square roots, logarithms and the like. Clever—in fact, a bit too clever as you find yourself swiping back and forth a little too often if you're trying to create any kind of complex calculation.
Calcbot on the iPad is the same, only bigger. Vertically, the calculator is huge, on par with the kitschy gag gift calculators you can buy at any dollar store (which would be a dollar less than this hybrid app costs). Like the smaller version, you have to swipe the keypad to the left to reveal all the extra functions you may need. And on a screen the size of the iPad, that seems like a supreme waste.
Landscape mode on the iPad reveals one of Calcbot's few redeeming features: A digital calculator tape that, until you clear it, displays every calculation that you've made. This calculator tape can be e-mailed in its entirety or you can copy, e-mail, or use individual results or expressions in another calculation. This same feature is available on the smaller iOS devices as well. After you've made a calculation, swipe the keyboard downward and you'll reveal a tape with all the same functionality.
While Calcbot works well as a general purpose calculator, you can't consider it money well spent. The built-in Calculator app offers similar functionality and PCalc Lite offers significantly more with much less hassle and at no cost. In short, Calcbot just doesn't add up.
[Jeffery Battersby is an Apple Certified Trainer, (very) smalltime actor, and regular contributor to Macworld. He writes about Macs and more at his blog.]