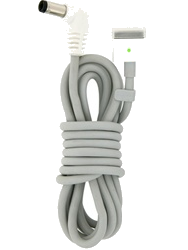 Accessory maker Sanho announced on Monday that it will stop selling its MagSafe line of products effective November 2nd, citing "ongoing comprehensive negotiations with Apple."
Last September, Apple sued Sanho over its line of HyperMac accessories that use MagSafe connectors, the design of which is patented by Apple. So far, Apple has refused to license its MagSafe design to third parties, thus maintaining a chokehold on the market's supply of compatible adapters.
At the time of the lawsuit, it was unclear whether Apple's case was going to be as clear-cut as painted in its court papers, since Sanho was not, technically speaking, replicating the MagSafe design. Instead, the accessory maker repurposed connectors from existing, official accessories—a practice that could be admissible under the so-called first-sale doctrine.
Now it appears that Sanho is all but abandoning the fight. A note on the company's website has issued a "last call" for customers to rack up existing supplies while they last, indicating that they will stop selling all MagSafe-compatible accessories on November 2nd at midnight, Pacific time, after which "they will [be] gone for good."
[Via The Loop]
HyperMac MBP-150 External MacBook Battery & Car Charger
HyperMac MBP-100 External MacBook Battery & Car Charger
Note: When you purchase something after clicking links in our articles, we may earn a small commission. Read our affiliate link policy for more details.