Objective Development has released its first LaunchBar update in nearly a year, adding support for Firefox bookmark folders, extra Calculcator and Phone number functions, and a ton of minor tweaks and improvements.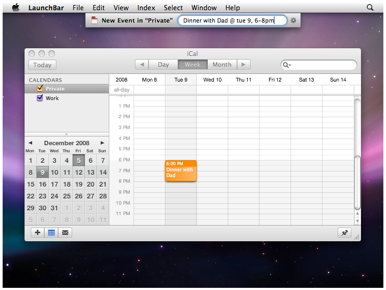 LaunchBar is a productivity utility akin to Quicksilver and Butler that lets you launch programs, compose emails, add calendar events, control iTunes, and perform numerous other tasks with a few simple strokes of the keyboard. Relying on your keyboard rather than your mouse to control your Mac can save you a lot of time and mouse clicks, making LaunchBar an indispensable tool if you're trying to get more done in less time.
LaunchBar 5.0.3 has received numerous minor features and improvements. Firefox bookmark folders are now supported, phone numbers are now formatted according to the "Automatically format phone numbers" options specified in Address Book preferences, and a "round" function has been added to the built-in Calculator so that entering "round(1.225|2)" will get you "1.23". Bing, Bing Images, and Linguee have been added to the list of built-in search templates, and LaunchBar now includes a "secure empty trash" action and Aperture library browsing support. A full list of fixes and improvements can be viewed at Objective Development's Website.
A free demo is available, and LaunchBar requires Mac OS X 10.4 or later. A single license costs $35, while $59 will get you a Family License that grants five installs.