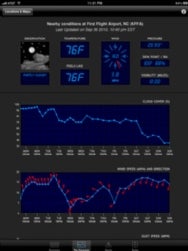 In a world crowded with weather apps, Wx has managed to stand out: The desktop weather-tracking program was named one of Macworld's Mac Gems in 2009. Now the program is available for the iPad.
Wx for iPad was launched Sunday by developer Craig Hunter. The app offers current conditions, forecasts, severe-weather alerts and radar pictures from the XML feeds supplied by 1,700 National Weather Service weather stations. Users can enter their zip codes to get information feeds for up to 18 locations, along with data from nearby radar sites and alerts from local municipalities.
The app is $4 and is compatible with iPads running iOS 3.2 or later.