The latest beta version of Sparrow, a simple Mac e-mail interface inspired by the popular Tweetie Twitter client, has been released. Sparrow Beta 4 features a new sidebar design, cleaner navigation, and numerous bug fixes and improvements.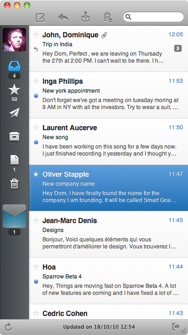 Sparrow is an e-mail client for Mac users that boasts a minimalist design, Growl notification support, Gmail thread handling, and a sidebar interface reminiscent of Tweetie.
New features in Sparrow Beta 4 include a new darker sidebar design that makes icons and profile pictures stand out more. The e-mail conversation interface has also undergone a redesign to sport a more "native" feel, despite still being based on Gmail's Web interface.
Bug fixes have been implemented that address issues like scrolling speed problems with non-Apple mouses, and an issue with Bcc e-mails. Other new features include Alias support, the ability to hide the menu bar and dock icon, a mini menu in the menu bar with the dock is hidden, the ability to copy/paste images, and other new features the developers want you to discover upon use.
Sparrow still only supports Gmail accounts, but support for several IMAP e-mail providers—as well as support for Gmail Labels—is in the works.
[Hat tip: MacStories]