IdealApp's $7 Cal-N-Icon tries to make keeping—and searching—your calendar easy by attaching icons to events. The iPhone app delivers what it promises, but not with much flair and not without a few frustrations.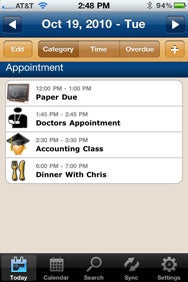 The concept behind Cal-N-Icon is fairly straightforward—attach an easy-to-decipher icon to an event so you can spot the event at a glance. So if you have a doctor's appointment, put a doctor's icon on the event; if it's your kid's baseball game, slap a bat-and-baseball icon onto it.
The application includes day, week, month and list views as you'd expect, and syncs with Google Calendar. Oddly, Cal-N-Icon dedicates an entire tab to syncing, and requires you to sync with Google Calendar manually.
Creating new events, too, is awkward. I found the app to be poorly laid out, which slows down your ability to add events. For example, an event's beginning and end times appear in separate cells; the iPhone's built-in Calendar app, in contrast, puts them together in a single view, and for good reason. All in all, I found entering events a little frustrating.
Moreover, the app doesn't take advantage of the Retina display on the iPhone 4 and the latest iPod touch models. The app icon, non-standard controls, and the application's main feature—its category icons for events—aren't particularly attractive on the iPhone 4's display. And many of the icons look like the kind of clipart you'd expect from Microsoft Word. It also doesn't support iOS 4's multitasking capabilities. Each time you launch the app, you'll see a "Loading" overlay—a disappointing blast from the past if you've become accustomed to the wonders of multitasking.
The free Cal-N-Icon Lite limits you to 10 events, and 30 icons. (The full version comes with more than a hundred). It also doesn't offer push notifications for events, whereas the paid version does. Still, if the idea of icon-influenced calendaring intrigues you, the free version gives you a chance to test out Cal-N-Icon before parting with your $7.
[Kyle Baxter writes and publishes the Mac weblog TightWind.]