Like many people, I've been put off by MobileMe's $99-a-year price tag enough that I decided (a) it wasn't worth the cost and (b) I would find other ways to replicate the features Apple offers from its online service.
But recently I decided to sign up for the free 60-day MobileMe trial. Even though I might never use many of its features, the scales have finally tipped for me to find enough value to pony up the dough for MobileMe.
Let me start by saying that I think Google's free services are great, and rather than choose between the two, I'm going for the combo approach of Google plus MobileMe. For example, I have a free Google Apps account set up, and use it to host my domain's e-mail and also to store my calendars. These work very well with Mail and iCal on multiple Macs, as well as with the Mail and Calendar apps on my iPhone and iPad, keeping all my messages and events in sync and accessible from anywhere.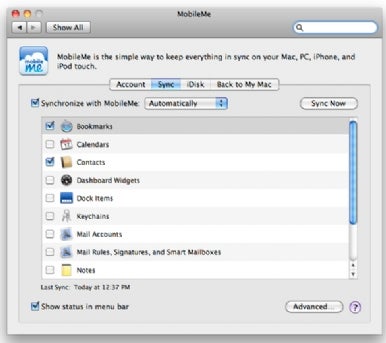 But there are certain areas of Google's services that either don't work the way I want, or are missing completely. An example of the former is contacts. I use Address Book on my Macs, and have always been frustrated that my master list sat on my iMac at home, and therefore wasn't accessible from my Mac Pro at work or my MacBook Pro in the living room. Google has a contacts feature, but I could never get it to work properly—or at least the way I wanted it to—and it doesn't support all of the same fields and data as Address Book does. And an example of the latter is bookmark syncing. With so many Macs and iOS devices in my life, not being able to have a bookmark I added to my Safari Bookmark Bar at work also also appear on my iMac when I got home was a real pain. And since I do a lot of work at home, it was also a productivity drain; somehow, digging through my mail or chat logs to find the URL I need doesn't seem like the best use of my time.
Once I ironed out the initial problems with trying to merge contact and bookmark data from three different Macs, I've been very happy with how well everything has been working. Those two features save me so much time and energy that they almost justify the cost right there.
Then there are the other perks that helped push me over the edge:
With two iPhones and one iPad in my household all using the same account, Find My iPhone is pretty cool.
Although I love my free Dropbox account as a way to access or work on files in muliple locations, as well as share files with others, it's great to have iDisk as another place to store and share files.
Being able to sync the little things, such as Mail settings and even my Transmit FTP favorites, is great too.
So in the end, did I decide it was worth $99 a year for an individual MobileMe account? Well, not exactly. That's what Apple sells a it for, but you can find a box (which is basically a slip of paper with a code and a sheet of Apple stickers) online for a lot less. I just purchased one from Amazon.com for about $50—called an Old Version but with a valid code, according to many, many comments I've read on the Web—and plan to use it to activate my subscription when my 60-day trial draws to a close. At this price, for what I want out of MobileMe, it was a no-brainer.