At a Glance
Expert's Rating
Our Verdict
Being a hero is no easy feat: it takes perseverance, practice and that special lack of dignity that is required to wear a costume that, in most cases, would leave even Liberace speechless.
However, fancy dresses and odd names are nothing more than the pageantry of heroship—a fact that players of Paragon's City of Heroes have known ever since the company's hero-centric massive multiplayer online role-playing game (MMORPG) launched in 2004. With the recently released Going Rogue expansion (corresponding to the eighteenth update to the game), Paragon brings a number of needed improvements to the gameplay, including the much-requested ability for a character to switch sides.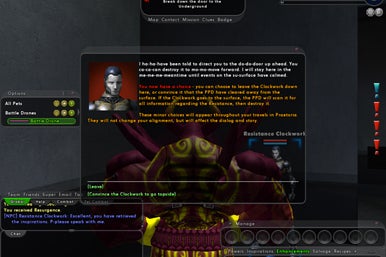 Installation and performance
Unlike its predecessor, City of Villains, Going Rogue is not a standalone product, and is instead only available to players who already own the basic City of Heroes package. For those who install the game for the first time, Paragon makes the entire client software available as a single download for free, thus saving you a trip to your local game store.
At 3.6GB, the installation image is not particularly large for a MMORPG; in fact, it took only a few minutes—which included downloading and installing a couple of patches—for the game to be ready to go on my machines.
On my late-2008 iMac, the game performs respectably, though with the occasional hesitation as it tries to render some of the more complex scenes. On my 2009 MacBook pro, on the other hand, characters and scenes glide by fluidly without any problem to speak of.
Incidentally, Going Rogue's music is absolutely fantastic—an eclectic collection of choral pieces and epic orchestral arrangements that evoke just about any great hero movie ever made: even on the tiny speakers of a laptop, the game perfectly captures the essence of great film composers like John Williams, Danny Elfman or Hans Zimmer.
Details, details
Newcomers to the game—especially those familiar with other MMORPGS like World of Warcraft—will immediately note that the designers at Paragon have put a lot of power and choice into the hands of the player, starting from the character creation process. This consists of seven steps in which you get to decide your character's every aspect, from physical appearance to superpowers and special abilities.
This abundance of choice is typical of the City of Heroes gameplay: the game often eschews simplicity in favor of giving the user as much freedom as can be had within the constraints of its rules. Unfortunately, the complexity of the character-creation mechanism is a bit of a turnoff when one first picks up City of Heroes; it's somewhat unfortunate that Paragon didn't take the opportunity to simplify things with Going Rogue.
Character Growth
One of the two major changes introduced by Going Rogue is the fact that one no longer has to choose whether to be a Hero or a Villain right away. Indeed, characters now start with neutral alignment in the city of Praetoria, where they are given the opportunity to join either the local government's sympathizers, known as the Loyalists, or the anti-establishment renegades that form the Resistance. Eventually, as your character levels up and gains new powers, he or she (or it) will leave Praetoria and join the rest of the game world, where you will be able to join either of the main factions—Heroes and Villains.
Inside Praetoria, choosing sides is not a matter of clicking a button and fighting the forces of evil (or good). Quite often, the game's storyline involves seemingly small and irrelevant moral choices that subtly but inexorably mold the personality of each character in a unique way. Non-playing characters are similarly nuanced—your enemies will often try to reason, negotiate or bribe you before resorting to physical violence, for example.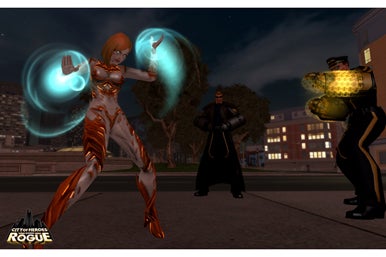 Switching sides
The second big innovation introduced by Going Rogue is the Alignment system, which allows characters to switch from Heroes to Villains, and vice versa.
Changing factions is, once again, not a decision to be taken lightly; since it represents a change in the morality framework in which a character operates, it takes place through several stages that, because of the way game mechanics are set up, are guaranteed to require a few days to complete.
As characters progress from one faction to the other, their allegiance changes gradually; Heroes first become Vigilantes before "going bad," while Villains turn into Rogues on their way to joining the forces of good. At each step of the way, one needs to follow a specific set of missions—which can be shared with other players—in order to move on to the next phase.
Missions
With the city of Praetoria comes a brand-new set of missions designed to provide an introduction to the intricacies of gameplay. Interestingly, the game plunges players right in the thick of its action: in the first ten minutes of play, one is faced with choosing a faction, deciding whether to trick a Resistance droid into stepping out on a street teeming with Loyalists and dispatching a horde of ghouls.
This may seem like a lot to take in right at the very beginning, but the initial missions are set up to be very forgiving in terms of the enemies' ability to deal damage, thus allowing you to experiment with the game's mechanics in a realistic environment without ever getting bored.
The only complaint that can be made about the expanded universe is that its environments are somewhat sparse—a trait brought into sharp relief by the fact that almost every other aspect of the game is curated in such great detail. As an example, many of the Praetoria missions involve running around endless mazes of institutional-grey corridors, which tends to get a little repetitive.
Altogether, however, Going Rogue is an excellent addition to the City of Heroes family. Though not a title for the casual gamer, a bit of dedication to growing your characters will be rewarded with a balanced, rich and durable experience.
[Marco Tabini is a frequent contributor to Macworld.]