IGG Software has released an update for its online banking app, iBank, that includes full iOS 4 support for multi-tasking, Retina display support, and other minor improvements.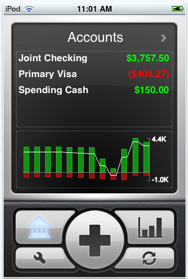 iBank Mobile lets you track your day-to-day spending and monitor account balances on the go. It lets you quickly enter transactions, review your account balances, keep a payee list, and work with multiple currencies. You can also sync iBank with iBank for Mac over Wi-Fi, MobileMe or other WebDAV server.
Version 1.2 of iBank Mobile brings the app in line with the current generation of apps, adding iOS 4 support for multi-tasking and high resolution graphics for the iPhone 4's Retina display. Other new features include a search transactions function and the ability to choose a default banking account. A speed improvement and several bug fixes have also been added.
iBank Mobile costs $5 and requires iOS 3.1.3 or later.