Apple's efforts to revamp its Apple TV product line could be paying off. The company says it's sold more than 250,000 units since unveiling a new version of the device last month.
Those numbers come directly from Steve Jobs, who made a rare appearance during Apple's quarterly conference call, when one analyst asked Apple's CEO to comment on customer response to the new Apple TV:
I can report that in just a short amount of time, we've already sold over 250,000, and we're thrilled with that. I think it's a great product, and its $99 price point is very enticing. And I think when we get AirPlay in place it'll give people another reason to buy it.
A quarter of a million Apple TVs is impressive in its own right, but the most interesting aspect of the number is that Apple gave it out at all. From the very beginning of the product's life in 2007, Apple has hidden Apple TV sales under its numbers for "Related Products and Services," and as such has never shared the number of Apple TVs sold in a quarter—or during any time period, for that matter.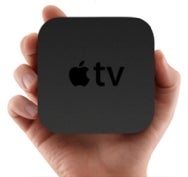 Back in January 2009, on another earnings call, Apple COO Tim Cook said that Apple TV sales were up three times what they were during the year-ago quarter, citing the addition of movie rentals to the iTunes Store, but didn't give people any idea of what the actual sales were.
Similarly, at a Goldman Sachs technology conference in February 2010, Cook said Apple TV sales grew 35 percent year-over-year in the December quarter of 2009, but again gave no hint as to specific unit sales.
Now, it's not clear what the exact time period Jobs was referring to was (pre-orders beginning September 1 until the end of the quarter? Until Monday's call?) or if all those units have been shipped or if some are backorders waiting to be filled. But what is clear is that if Steve Jobs is finally comfortable throwing out a sales number for the Apple TV, Apple is confident that the product's status as a 'hobby' may be coming to an end.