If you've been waiting for a quality space shooter for the iPhone, Star Battalion for iOS could be what you're looking for. The action-packed 3D shooter from Gameloft offers iPhone 4-optimized graphics, action-packed dogfights, and several multiplayer options for cooperative and competitive play.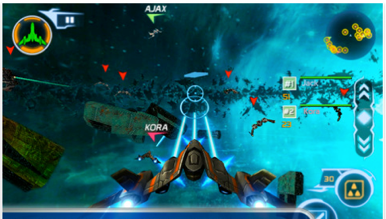 Star Battalion puts you in the role of an ace star pilot doing battle against the militaristic Royalists. Your battles will take you throughout space and across exotic landscapes, including a futuristic city, jungles, deserts, and ice mountains.
The game features a wide selection of ships you can pilot, and offers a deep storyline rife with plot twists and colorful characters. Star Battalion also takes advantage of the iPhone 4's built-in gyroscope, giving iPhone 4 owners a new way to control their ships.
You can team up locally or online for multiplayer action via Wi-Fi and Bluetooth, or sign into Apple Game Center and partake in the campaigns with your friends there.
Star Battalion, which runs on iOS 3.1.2 or later, is priced at $7—a bit steep for an iPhone game, but high quality graphics don't come cheap, my friend.