AT&T has launched a free new app designed to encourage and help voters get to the polls this midterm election season.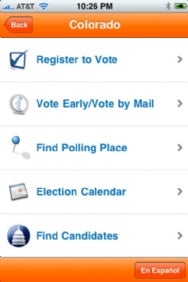 VoterHub debuted Saturday with an array of features that includes an online voter registration form. However, given that many states require registration 20 to 30 days in advance of election, that particular function might be late for many users.
Other features might prove more immediately useful. Voters can find out where their polls are and learn about their state's procedures for advance or absentee voting. Users can also find brief bios on candidates for Congress, governor and local legislative races (although the information, where available, is limited to resume-type data instead of political positions), and take a closer look at their state's election calendar.
VoterHub is compatible with any iPhone, iPad or iPod Touch running iOS 3.1 or later.