The iPhone contact manager Tacts looks to improve upon what you get with the built-in Contacts app. And TernTek MayArt's $2 app delivers better support for groups, including both smart groups and specialty favorites. But some features are lacking, even after a recent update added multitasking support.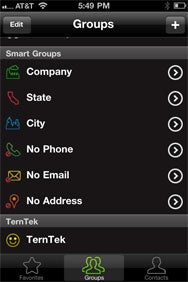 The group facilities in Tacts are top notch. While Apple's own Contacts does nothing more than display groups and the contacts that belong to them (which must be set on a computer and synced into the phone), Tacts can create groups, delete groups, add contacts to groups, and even create smart groups. You define those smart groups by rules based on the contents of the contacts (which, sadly, don't include user-added fields).
With the exception of smart groups, you can take action with your Tacts groups, including group e-mail or group MMS. You can also assign icons, which are built into the app, and colors to your groups. In a notably unintuitive move, pressing the Edit button on the groups screen only allows you to delete or reorder groups. It actually prevents editing the groups. The same goes for the Contacts screen.
The specialty favorites in Tacts provide a great shortcut for e-mailing, texting, and mapping contacts. It's a great bonus for anyone that prefers picking from a short list over searching. The favorites screen also has a pop-up Top Contacts list that shows your most frequently used contacts. I had to force-quit the app when I wanted to repopulate that list. Unfortunately, the favorites screen is based solely upon the number of times you choose a contact for communication; it doesn't use information like the call log, actual e-mail data, or texting history, so it's not nearly as insightful as it could be. Similarly, because Tacts doesn't use all the same information as Apple's Phone app, it lacks the call log and doesn't hook into the built-in favorites.
Tacts is worthwhile for anyone interested in stronger group capabilities out of their contact management, but it comes at a cost of integration with Apple's built-in facilities.
[Derik DeLong is a blogger and software engineer.]