France-based Runware has announced the release of GooTasks 4.0, a major upgrade to its iOS app that can synchronize tasks lists with multiple Google accounts through the search giant's Tasks web-based application.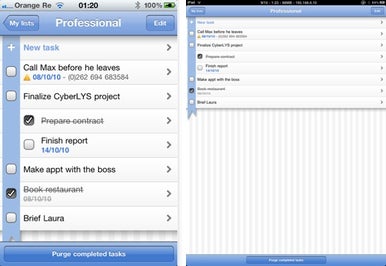 Runware says that GooTasks's interface was rebuilt to be more intuitive. It also added an iPad version, making GooTasks a native app for all three of Apple's iOS devices. GooTasks 4.0 supports lists, tasks, and even sub-tasks, and can now create automatic local backups.
In addition to providing a live connection to Google Tasks, the app is also capable of working offline, synchronizing tasks automatically once an Internet connection becomes available.
GooTasks is available in eight different languages, including English, French, German, Italian, Chinese, Japanese, Spanish, and Russian. It works with both the consumer and business (Google Apps) versions of Google Tasks, which is accessible through a GMail or Google Calendar account.
GooTasks requires an iPhone, iPod touch or iPad running iOS 3.0 or later; the app can be downloaded for free from the App Store, but some of the more advanced features are only available as part of the "Pro" in-app upgrade, which costs $5.