Users of Bare Bones Software's Yojimbo information organizer can now take their data with them. Bare Bones has released an iPad companion app for Yojimbo that stores the notes, passwords, PDFs, bookmarks, and images you'd stash in the desktop version.
Along with Yojimbo for iPad 1.0, Bare Bones on Tuesday also released an update to the desktop version of its information manager. Yojimbo 3.0 adds support for the newly released iPad app.
The mobile and desktop versions of Yojimbo sync with each other when they share the same Wi-Fi network. After you set up the iPad app, it automatically syncs from the desktop when Yojimbo remains open or when the iPad app is launched.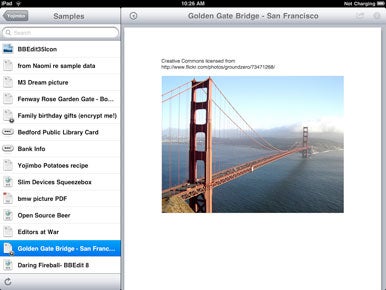 Yojimbo for iPad is a read-only app at this point—you can't edit material stored in Yojimbo using the iPad app or add new information to be stored. "We wanted to get a 1.0 version done with the basic features that people need," said Rich Siegel, Bare Bones Software founder and CEO.
Siegel didn't rule out adding editing capabilities in future versions of the iPad app. "It's not a promise," he added, "but it's certainly very much part of our desire."
In addition to storing the types of items contained in the desktop version of Yojimbo, the iPad app also handles encrypted data using the AES-256 algorithm standard. "Encrypted items work the same way [on Yojimbo for iPad] as they do on the desktop, so you have the same level of protection," Siegel said.
The iPad version of Yojimbo includes search capabilities that let you search for items by title and tag. It also supports Yojimbo collections and smart tags.
Yojimbo for iPad is Bare Bones Software's first iOS release. Previously, to get data onto a mobile device, Yojimbo users had to turn to the Sidekick feature introduced in version 2.2 of the desktop software. Sidekick let users export most types of data into a portable Web page format that they could then access from an iPhone, iPad, or other mobile device.
As for the desktop update, support for the iPad version may lead the changes in Yojimbo 3, but it's not the only feature of note. The new version lets users scan images into Yojimbo, thanks to direct scanning support for TWAIN-compatible devices. Release notes for Yojimbo 3 detail several bug fixes and refinements.
Yojimbo 3, which runs on Mac OS X 10.5.7 or later, will be a free update for Yojimbo 2 users. The desktop software costs $39 for an individual license and $69 for a family-pack license.
Yojimbo for iPad is available from the App Store as a $10 download. It requires iOS 3.2 or later.