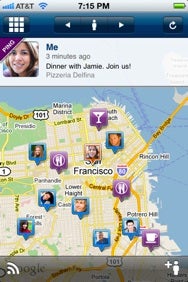 Loopt, a location-based service like Gowalla and Foursquare, has updated its iPhone app with a handful of features, not the least of which is integration with Facebook Places.
If you recall, in August Facebook announced Places, a new feature that marked its expected debut into the realm of location-based social networking. As with Gowalla and Foursquare, Facebook users can now "check in" to locations like bars, coffee shops, restaurants—virtually any place of business. Location-based features like this make it easy to see which friends are there or have been there in the past, and give friends an easier way to meet up for a night out, though some of these services have raised privacy questions as well.
Loopt is one of the original location-based social network services and one of the first to deeply integrate Facebook Places, despite being left out of Facebook's original announcement in lieu of Gowalla and Foursquare. If you tie your Facebook account to your Loopt account, you can now view the locations of both sets of friends on a single map in the new Loopt app. As Mashable notes, you can tap on a Facebook friend's location, view any comments on that check-in, and even write your own comment, all from the Loopt app.
Other changes in Loopt's updated iPhone app include the ability to customize the radius in which you receive alerts about friends's check-ins, as well as a simplified registration system that should lower the bar for new users looking to give Loopt a shot.
These new features are in addition to Loopt's already broad set of location-based abilities, including a discovery system for learning more about your neighborhood or city, viewing upcoming events, and getting recommendations from other Loopt users.
Loopt 3.2 for iPhone is available now for free in the App Store. It requires an iPhone or iPod touch running iOS 3.1 or later.