Audio manufacturer Harman Kardan on Tuesday announced an updated version of the company's venerable SoundSticks 2.1 (subwoofer/satellite) computer-speaker system. The SoundsSticks III features the same transparent, futuristic design as the SoundSticks II ( ), but includes a number of minor tweaks.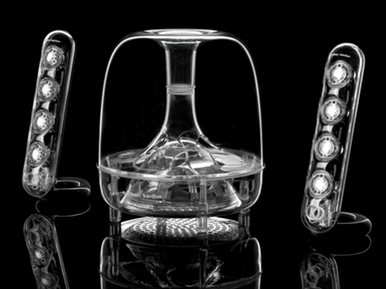 The new version includes a satellite-mounted power switch—the lack of such a switch being one of our criticisms of the previous model—as well as an "improved audio cable." Other changes include white lights and new trim designed to better match the look of Apple's iMac and MacBook computers. The company claims the new model provides the same audio quality as the previous edition.
The SoundSticks III is available now for $210.
Updated (10/19/2010, 3:42pm) to clarify information about the new power switch. Removed inaccurate year for SoundSticks II release.