Aspyr Media plans to bring the popular strategy game Sid Meier's Civilization V to the Mac in time for the holidays.
The game, which was just released last September for the Windows platform by developer Firaxis, represents the latest incarnation of the long-running Civilization series. That series originally launched some 20 years ago by MicroProse, a company that was co-founded by game design legend Sid Meier, whose name is still attached to it.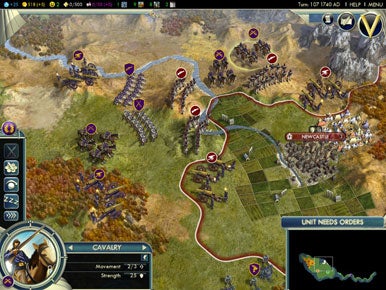 Like its predecessors, Civilization V allows you to control a civilization from the dawn of existence through all the stages of its evolution; along the way, you will have the opportunity to discover technologies, grow your population, and explore the game map, where you are likely to encounter your opponents (whether they're controlled by other players or the computer) in the form of other tribes. In keeping with tradition, players can win the game in several ways, which include some offbeat options, like building an interstellar spacecraft, in addition to the obvious choice of simply wiping the competition off the map.
The latest chapter in the Civilization saga adds a number of improvements over its predecessors, including the use of hexagonal tiles for more realistic gameplay, a brand-new rendering engine, and improved war scenes. Aspyr has not yet announced a date for the game's availability, nor a price. While it gets ready for the release, the developer says you can follow its progress on Twitter.