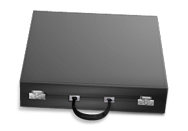 Though the iPad is getting its fair and growing share of business adoption buzz right now, it may be time to also shine the IT spotlight on Apple's core computer business. According to a new study from the Enterprise Desktop Alliance (EDA), 2011 will be the Year of the Enterprise Mac.
In June 2010, the EDA surveyed 460 IT administrators from business and government departments that manage anywhere from 200 to 200,000 computers. The advocacy group found that Macs could be the fastest growing systems in the enterprise through 2011. EDA predicts that 25 percent of all new systems added to organizations will be Macs, causing the Mac to climb from 3.3 percent of all enterprise systems in 2009 to 5.2 percent in 2011.
Unsurprisingly, EDA believes that much of the Mac's enterprise growth will come from organizations that have already embraced the platform. Nearly two-thirds (65 percent) of the study's respondents fall into this category.
As for the key issues that IT administrators consider when adopting the Mac, you should also not leap out of your seat to hear that, in a survey done earlier in the year, the vast majority cited "parity in integration and management between Macs and PCs" at the top of their lists. Most (79 percent) checked off both "file sharing between operating systems" and "security" as "very or extremely important." Other topics like client management, Active Directory integration, and, of course, the complexities of cross-platform support rounded out the list of things that keep administrators up at night, or at least doing a little overtime.
It is worth noting that the EDA was formed in 2008 by a group of enterprise businesses that actively facilitate the acceptance of Macs in an industry dominated by Windows; as with most studies, take this one with a grain of salt. Founders include Atempo, Centrify, Group Logic, LANrev, and Parallels.
Of course, if the Mac does see an enterprise surge through next year, it'll be in good company. Macworld has covered the iPad's surprisingly warm response from businesses, and the iPhone is being put to work as well.