My TSA is a free app, unless you count whatever portion of your tax dollars contributed to its development. The app from the Transportation Security Administration provides real-time information about airports, along with up-to-date information about what you can and can't put in your carry-on bag. (Example: Baby formula is OK; bombs aren't.)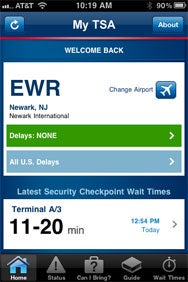 I generally fly out of Newark airport (EWR). At this writing, My TSA tells me that there are no security delays at that airport in any terminals. The app even indicates that the last significant delay was at terminal A/3, with 11 to 20 minute wait times, and ended several hours ago. You can, of course, look up this information for any U.S. airport. You can also submit the wait time you encounter at the airport, to help other users of the app. (Just make sure you stick your iPhone back in your carry-on before you reach the front of the security line.)
The Status tab shows real-time airport status nationwide. I know that the Las Vegas airport is currently suffering from 30-minute general departure delays, (no) thanks to airport construction.
The Can I Bring? tab lets you search for which objects you're permitted to pack in your carry-on, which must be checked, and which you simply can't take with you at all. The Guide tab provides plentiful tips for unseasoned passengers: warnings about underwire bras, advice on traveling with children, and more.
While the app is well-intentioned, it doesn't strike me as particularly useful long-term. Once you know the latest TSA regulations, having them accessible in app form on your iPhone doesn't seem that important. The security line delay information could be a hair more useful; generally speaking, though, if you follow airline recommendations about how far in advance of boarding time you should arrive at the airport, you'll be fine either way. Your fellow passengers and airport staff will help ensure that you don't miss your flight.
Still, if you're a novice or nervous flier, perhaps the added security blanket of the security administration in your pocket can't hurt.
[ Lex Friedman is a frequent contributor to Macworld.]