Editor's Note: The following article is reprinted from Macworld UK. Visit Macworld UK's blog page for the latest Mac news from across the Atlantic.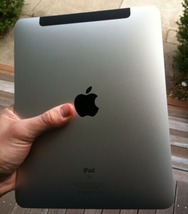 While analysts are said to be disappointed that Apple didn't sell the 5 million iPads in the fouth quarter that was anticipated ( Apple actually sold 4.19 million), market research firm iSuppli is reporting that things may look up in the next quarter.
The likely reason that Apple failed to meet Wall Street targets is component shortages, according to iSuppli: the company just didn't have enough iPads to meet demand. All this looks set to change this quarter, iSuppli says.
iSuppli director Rhoda Alexander said: "In its previous iPad forecasts, iSuppli noted that the only constraint on shipment growth now is production—and not demand.
"The only factor limiting production is the availability of key iPad components, such as the Field Fringe Switching (FFS) LCD panels, projected capacitive touch screens and NAND flash. Despite ongoing yield issues, Apple's suppliers have steadily increased monthly production to meet Apple's demand. Production rates are now on target to meet the expected strong fourth-quarter sales," she added.
By the end of the year iSuppli expects the iPad production rate to approach or exceed 2.5 million units per month.
iSuppli has increased its 2011 shipment forecast to 43.7 million iPad units, up from 36.5 million, and expanded its 2012 outlook to 63.3 million units, up from 50.4 million previously.