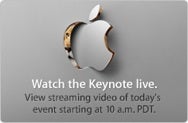 Apple on Wednesday morning announced that it will stream its Back to the Mac press event live. After a long hiatus from streaming its events, this will be the second time in as many months that Apple has offered a live video feed.
Apple says that it will stream its Mac-centric event using "industry-leading" HTTP Live Streaming, which is "based on open standards." As with its September 1 music event, the first in five years that Apple also streamed live, viewers will need a Mac with Safari on OS X 10.6 Leopard, or an iPhone, iPod touch, or iPad running iOS 3.0 or later.
Apple's broadcast begins at 10am PT and you can watch the live video stream here. To stay in the know with interactive reporting and contextual play-by-play analysis, tune into Macworld's live coverage of the event.
Updated at 9:13am with a link to Apple's official live video stream of the event.