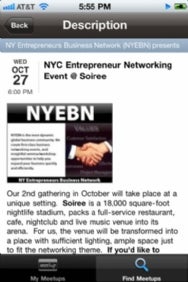 An update to the Meetup mobile social networking app brings additional features aimed at making it easier for new members to find real-world gatherings for politics, hobbies and other shared activities.
The iPhone app already offered a lite version of the well-known site, letting users view upcoming events, get directions, upload photos and check-in at events. The recent update adds the ability for new Meetup members to register for an account directly from their iPhone. Users can also now check out the profiles of Meetup members hosting listed events.
Meetup 2.0 is free, and compatible with any iPhone, iPad or iPod Touch running iOS 3.1.2 or later.