Apple announced two new Macbook Airs on Wednesday—and they're way more than speed-bumps. Think of them instead as a cross between the last-generation of the company's ultra-thin laptop and the iPad.
Wednesday saw the release of an updated 13.3-inch Air, which superficially resembles its predecessor. But there's also an entirely new 11.6-inch model. And none of the revamped MacBook Air models comes with a hard drive: They rely instead on flash storage built into the motherboard.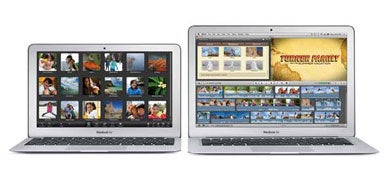 "We think it's the future of notebooks," Apple CEO Steve Jobs told the audience at the company's Back to the Mac press event.
Both MacBook models are thinner than what Apple offered before: 0.68 inches at their thickest, tapering to 0.11 inches. (The last generation ran from 0.76 inches to 0.16.) They're also lighter: The 11.6-inch model weighs 2.3 pounds, the 13-inch 2.9; the old 13-inch model weighed in at 3 pounds even.
The MacBook Air features a full-size keyboard as well as the glass trackpad found on other Apple portables. "These are areas where you don't want to sacrifice," Jobs said.
In explaining Apple's decision to remove a built-in hard drive in favor of flash storage, Jobs pointed out that solid-state drives perform faster and more reliably, making them ideal for portable computers. They also allow Apple to make a smaller and lighter notebook. "We know the benefits," Jobs told reporters.
What's more, because the flash storage takes up less room than a hard drive, that leaves space for a bigger battery. A bigger battery means better battery life: The company claims the new 13-inch model will give you 7 hours of wireless productivity on a single charge, compared to 5 hours before. (The 11.6-inch model tests out at 5 hours, presumably because its battery isn't as large.)
The flash storage also means these new Airs are "instant-on": You can leave the machines in standby mode for up to 30 days, Apple says, yet they'll revive instantly and let you resume working where you left off.
Among the other differences: Graphics are now handled by NVIDIA GeForce 320M processor (the same chip as in the current MacBook); the graphics processor shares its 256MB of DDR3 memory with the system RAM. Instead of one USB 2.0 port, both new models have two; both have the same single Mini DisplayPort, and the 13-inch model has an SD card slot too. Instead of a single mono speaker, the new Airs have stereo.
The primary difference between the two MacBook Air configurations comes in the size and resolution of their LED-backlit screen. The 11.6-inch MacBook Air features 1366-by-768 resolution, while the 13-inch model offers 1440-by-900 resolution. All MacBook Airs come with a built-in camera, which Apple has rebranded as a FaceTime Camera to tie-it in with the desktop version of the video-conferencing application released Wednesday.
The new 13.3-inch model, with a 1.86GHz Core 2 Duo processor, will cost $1299 for a model with 128GB of flash storage and $1599 for one with 256GB. (As with the last generation, you can also order it in a 2.13GHz built-to-order configuration.) The 11.6-inch model, which has a 1.4GHz CPU standard, will cost $999 for a 64GB model and $1199 for 128GB. (There's a 1.6GHz upgrade option.) Both come with 2GB of 1066MHz DDR3 SDRAM standard, expandable to 4GB.
Updated at 1:25 p.m. PT with more information on the MacBook Air and quotes from Steve Jobs.