Objective Development has released an update for its network monitoring utility, Little Snitch, adding new domain rules, a redesigned connection alert window, and numerous bug fixes and improvements.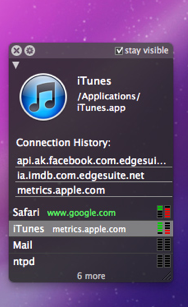 Little Snitch is a background utility that monitors all outgoing connection attempts from your computer. A surprising number of applications running on your Mac connect to the internet without your knowledge for purposes that range from relaying system information to verifying that your serial number is valid.
Little Snitch lets you determine which programs can be trusted to make these connections, and which ones should be blocked from doing so.
Little Snitch 2.3 sees the addition of new domain rules that match an entire domain instead of just a particular hostname—a feature that will hopefully lead to fewer redundant connection alerts that relate to the same site. The connection alert window has also been redesigned, and text in the window can now be copied with command+C.
The update also tackles involving Google Software Update-related connection alerts and random increasing CPU loads under certain circumstances.
Little Snitch costs $30 and run-on OS X 10.4 or later.