During Apple's "Back to the Mac" event on Wednesday, CEO Steve Jobs debuted what he described as a much-requested piece of software: FaceTime for Mac.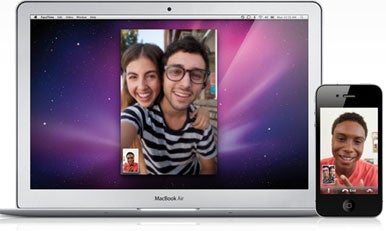 Apple first introduced the FaceTime video conferencing feature as part of this summer's iPhone 4 release. Last month, the company extended FaceTime to the fourth-generation iPod touch. All told, Jobs says, Apple has shipped 19 million FaceTime-compatible devices.
Still, one of the central complaints about the video-conferencing features on Apple mobile devices has been that users haven't been able to connect with friends and family who haven't upgraded to the new iPhone and iPod touch models. Extending FaceTime to the desktop figures to remedy that situation.
FaceTime for Mac is a new application—in a surprise to some, completely separate from iChat. The software lets you identify favorite contacts, provides quick access to recently-called ones, and of course integrates with your OS X Address Book.
You click on a user name to initiate a call, and you can call Mac to Mac, Mac to iPhone 4, or Mac to iPod touch. As with iChat, FaceTime calls can be conducted full-screen. If the person on the other end of the call is using an iOS device and switches its orientation, the FaceTime image on your Mac's screen automatically rotates, too.
You'll receive calls through FaceTime on the Mac, even if the application isn't running. You can turn off that feature in Preferences if you don't want to receive FaceTime calls, though.
The FaceTime for Mac beta is available as a download from Apple. It requires Mac OS X 10.6. You'll need an Apple ID and an e-mail address to get started with the program.
Updated at 11:45 a.m. PT to include system requirements and more information about FaceTime for the Mac.