Consumer Reports has released an app that should help take the uncertainty out of your retail shopping experience. The Consumer Reports Mobile Shopper gives you access to Consumer Reports's coveted ratings, recommendations, brand reliability, and buying advice on thousands of products—and all you need to do is scan a product's bar code to get the low down.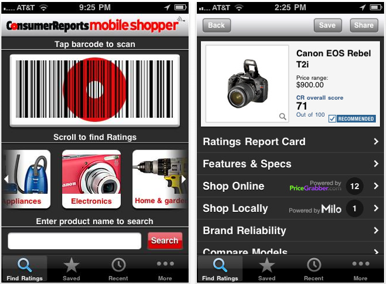 The Consumer Reports Mobile Shopper provides valuable information from Consumer Reports's expert engineers, testers, and editors on appliances, electronics, home and garden, supplies for babies and kids, and car products.
You can access product information by browsing through Consumer Reports's ratings, searching by make and model, or by scanning a product's UPC barcode. You can also access Consumer Reports's Best Buy recommendations, compare different products, and read user reviews. The app also searches for the best prices online and locally using PriceGrabber for online price comparisons and Milo for local purchases.
The Consumer Reports Mobile Shopper app—which requires iOS 4 or later—is available now at an introductory pricing of $10 per year subscription, and will rise to $15 starting January.