Teenage girls looking for handsome, moody vampires, beware: Chillingo's shooter game Vampire Origins: Reloaded is devoid of any mystical creatures you'd ever want to kiss. The vampire craze clearly shows no signs of slowing down and this app provides a game that takes players back to the genesis of the beasts.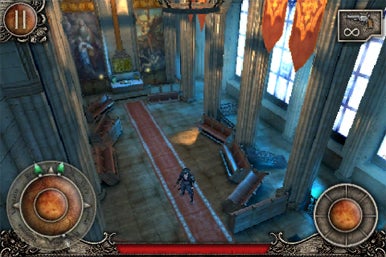 First, a primer: Vampire Origins: Reloaded is an updated version of the original Vampire Origins release. The "Reloaded" tag is due to some new content including retina display support, a new level called "The Tavern," and a new feature called "Gun Range Survival Mode" that utilizes the iPhone's 4's gyroscope capabilty (the gun range also works with 3GS touch controls).
In Vampire Origins, you play as Vincent, a mysterious, resurrected vampire hunter seeking revenge for his murdered bride. With a choice of dual-stick or touch screen controls, you wander through the game, slaying vampires and solving simple puzzles as you go. The majority of the game is spent wandering through the elaborate scenery and tapping on vampires to shoot them to smithereens. Puzzles also pop up along the way, and bosses are dealt with via swordfight. Unfortunately, sword battles aren't nearly as fun as they sound. The boss and Vincent battle with realistic moves, but players have practically no control over the maneuvers. Rather, players must quickly swipe a line that appears on the screen to propel Vincent to victory.
Luckily, the beautiful setting partly makes up for the dull gameplay. Gothic architecture adorns the churches, cemeteries, and courtyards that set the scene for Vincent's revenge. Despite the aesthetic appeal of the scenery, though, awkward points of view and constant angle shifts make it extremely difficult to successfully navigate through the game. This becomes a problem particularly during chase sequences where players are instructed to outrun particularly hostile and strong vampires. Here, the point of view changes every couple of steps and precious seconds are wasted reorienting yourself as you flee.
Like the scenery, the game's cutscenes are beautifully rendered. Each page reads like a comic book, yet, like most aspects of Vampire Origins, nice art simply isn't enough to make up for the lack of substance behind it. The story isn't terribly interesting or original, and doesn't make a difference, overall, in the game.
There's just no real aspect of Vampire Origins: Reloaded that draws players in enough to forgive its overall dullness. The sword fighting sequences are nice to watch at first, but they're ultimately way too simple. The graphics are attractive, but the constantly shifting viewpoints makes this a moot point within the game— as these camera issues were often the cause of my death. There's nothing in the game to despise, but overall, Vampire Origins leaves much to be desired.
[Stephanie Kent is an editorial intern for Macworld.]